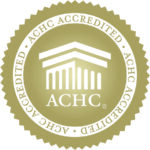 Willow Tree Home Health Care
ACHIEVES ACCREDITATION WITH ACHC
Bellefonte, PA, Willow Tree Home Health Care proudly announces it has achieved accreditation through Accreditation Commission for Health Care (ACHC) for the services of Skilled Nursing, Physical Therapy, Occupational Therapy & Speech Therapy.
Accreditation is a process through which healthcare organizations demonstrate compliance with national standards. Accreditation by ACHC reflects an organization's dedication and commitment to meeting standards that facilitate a higher level of performance and patient care.
ACHC is a nonprofit organization that has stood as a symbol of quality and excellence since 1986. ACHC is ISO 9001:2015 certified and has CMS deeming authority for Home Health, Hospice and DMEPOS.
By achieving ACHC Accreditation our agency has shown our commitment in providing excellent patient care and improving patient outcomes and safety.
Willow Tree Home Health Care is a nurse-owned Home Health Agency providing Skilled Home Health Care & Non-Medical Home Care to our community. Our team of compassionate and caring staff are devoted to the community and strive to deliver the finest care to all patients & improve patient outcomes and safety. We are licensed by the Pennsylvania Department of Health to serve Centre County as well as 12 other surrounding counties.
This accreditation is a tremendous achievement for us at Willow Tree Home Health Care, our knowledgeable and caring healthcare team has proven their commitment to providing high quality care to our community members.
"Healing at Home Through Strength and Hope"
For more information, please visit www.willowtreehhc.com, or contact us at [email protected], on our Facebook page at https://www.facebook.com/willowtreehhc or call us at 814-810-2389.